The Covid-19 lockdown has taught us some lessons for Smoking Cessation writes Prof. Luke Clancy including the use of the Internet. And all those outside smoking areas should never be re-opened after the pandemic
There is a serious need to consider the possible role of internet-based Smoking Cessation services, especially now during the current SARS-CoV-2 COVID-19 pandemic. This is very much in line with national Tobacco Control policy, because despite the Tobacco Free Ireland commitment to a 5% smoking prevalence by the year 2025, Tobacco Free Research Institute's SimSmoke modelling analysis suggests that this will not happen with the present TFI policies.
Extensive multi-stage comprehensive plans, based on the World Health Organisation's MPOWER strategy, outlined in the TFI policy document have been considered in the SimSmoke model but are not sufficient to achieve their aims.
Tobacco Control in Ireland
Ireland's reputation for its efforts in Tobacco Control makes it a world leader. We were the first country in the world to introduce a national Smoke Free law (March 28, 2004) covering the workplace, as well as pubs, clubs, and casinos. We also have high tax-based prices for tobacco, and have cooperated with EU advertising, promotion, sponsorship, and Directives including the more recent Tobacco Products Directive (TPD). Nevertheless, without stronger, better, and perhaps new policy interventions we will not achieve our 5% goal.
In our TFRI analysis we suggested that the most likely interventions to be helpful for a country like Ireland that has such an advanced tobacco control status, with strong well-developed tobacco control policies, would be a strengthening of Smoking Cessation Services, and improved mass media campaigns. The pandemic has also suggested a further intervention that could make a difference when the country opens up again.
The outside smoking areas of pubs, restaurants, and clubs should never be reopened post the pandemic. The original idea was that these areas were to be for the few who could not manage without them. But they have been abused. TFRI and our partners in the Horizon 2020 TackSHS project recently measured the pollution level from secondhand smoke in these areas in seven countries – including Ireland – and found in many instances the PM2.5 levels were very high.
Occupants with respiratory obstructive diseases, COPD or asthma, who visited these areas showed a deterioration in their pulmonary function. These areas were considered safe but we know better now and they should be abandoned.
With regard to smoking cessation the Health Services Executive's (HSE) Quit.ie has undergone considerable development in recent years since our report but our analysis of the current situation does not suggest that it can change the prevalence enough to achieve the 5% target.
Attention to Tobacco Control by the Government during the Covid-19 pandemic may be less than fulsome. A new Minister may even think that Tobacco Control is not a priority or that Covid-19 may have a greater mortality. He probably knows by now that some 6,000 smokers lost their lives from entirely preventable smoking-related diseases in his first year in office.
Far more people have died from smoking in Ireland and in the world than died from Covid-19 since the pandemic started, and many of those who developed severe Covid -19 and needed hospital admission and ICU admission and subsequently died did so because of smoking-related diseases.
The cost of effective smoking cessation treatment would have been a fraction of that needed for Covid-19, and would have reduced treatment costs for the pandemic as well as freeing up capacity for Covid-19 patients needing admission to hospital.
It was perhaps the most readily available and cheapest intervention that we had to make a difference. Unfortunately neither the Minister nor the HSE Chief Medical Officer showed much interest at the time. It is still not too late to take action and I call on them to rethink their approach.
Smoking Cessation
The Quitline, which was started by the Irish Cancer Society (ICS) in 1999, has developed from a separate stand-alone service, and is now an integrated part of Quit.ie SCS. In the beginning it was reactive, where smokers made the contact and were offered advice, the therapeutic options were explained and recommended. Smokers were offered self-help materials and encouraged to call back to the Quitline for further encouragement and advice.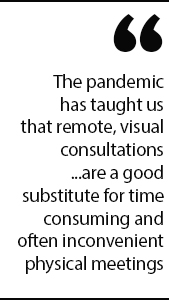 The ICS service was evaluated favourably on an intermittent basis and the HSE were convinced of its usefulness and took over its funding from 2010. It has continued to develop under HSE management.
The modern, developed HSE Quitline is also a triage system where access to proven effective and cost effective pharmacological agents is discussed and advised – in particular Nicotine Replacement Therapy (NRT) which is available in a number of formulations, patches, gum, pellets, lozenges and inhalers.
NRT is known to be effective and is associated with a doubling of success rate in quitting.
Partial Nicotine Receptor Agonists represented by varenicline and cytisine are thought to be the most powerful pharmacological agents for smoking cessation.
These agents are discussed during Quitline consultations, and methods of administration and side-effects and precautions are explained. From a phone only service, the Quitline is now both reactive and proactive with multiple entry points. Not only phone contact but also SMS texts, emails, and social media chat platforms are used and it also extends to one-to-one or group counselling where medication is also available.
Quitline services have the great advantages of having wide reach, which is very important when we are dealing with a disease that affects nearly 20% of the adult population. This wide reach is very important in bringing a service to many smokers who otherwise might not realise that effective treatments exists, or who object to the idea that smoking cessation should be medicalised.
Quitlines also act as a bridge between smokers and the health services. It is heartening therefore that Cochrane reviews suggest that, individually and collectively, these modalities are effective, accessible and cost-effective – even without the addition of medicines.
Their efficacy extends to young adults who are a difficult population to help to stop smoking.
Cochrane also points out that Quitlines can adapt to special needs of smokers, and also may have a role in relapse prevention, which is very important as unfortunately it is a very common problem even in successful cessation. With increasing internet use for many aspects of life, Quitlines too have adapted and are very well-suited to internet modalities.
As presently operated Quitline counsellors however have the serious disadvantage of being limited in prescribing the medications they recommend.
This could and should be amenable to manageable change as we have seen in Covid -19 services for other diseases where special arrangements for filling of prescriptions electronically with appropriate security arrangements have facilitated medicine supplies.
Now everything is changed. The COVID-19 pandemic has taught us that remote, visual consultations facilitated by cheap and effective video technology in some situations are a good substitute for time-consuming and often inconvenient physical meetings.1 In SCS this could be a real bonus.
Prescribing – Smoking Cessation Services (SCS) in the COVID-19 Pandemic
In Ireland, electronic prescriptions are now accepted for several purposes2 which raises the possibility that this facility could and should be extended to the limited number of pharmaceutical agents shown to be effective in the treatment of tobacco dependence.
Nevertheless, we need well planned and monitored trials of SCS delivered in this way before we can be sure that this approach works as well as one-to-one physical consultations for smoking cessation.
Two recent Randomised Control Trials, the first in the world being from TFRI (Tob. Control. 2019), have shown that the non-pharmaceutical intervention Allen Carr's Easyway to Stop Smoking delivered in a conventional physical group-therapy session out-performed the then current services HSE Quit.ie and are at least equal to other internationally validated SCS.3,4
Could Allen Carr's Easyway be delivered online with equal success? Allen Carr already offers such a service internationally but unlike the in-person group therapy session, which we and others have trialled and validated, the online version has not been validated through a RCT but it also seems likely to be effective.
Nevertheless until such studies are done there will be understandable hesitation. Such research studies would also provide the opportunity to involve our Quitline colleagues who, in many instances, are not incorporated in our research projects.
Only in this way will we be able to compare the present services with the new approach and give due credit to the SCS specialists who have had to deliver an under-appreciated and somewhat isolated service which has been of huge benefit to smokers. Ireland is in a position to test this approach and make a further contribution to the health of the nation, achieve our tobacco control strategy and play our part in establishing internet-based tobacco cessation services as a reliable treatment modality.

References
Source: https://www.imt.ie/clinical/internet-based-tobacco-cessation-would-it-work-in-covid-19-pandemic-07-05-2021/